November Specials
Please note we are closed on
Thursday and Friday, Nov 23rd and 24th. 
THANKSGIVING WEEKEND:  Because we are so thankful for our clients, ALL sessions on Saturday and Sunday, Nov 25th and 26th, are discounted – ADDITIONAL $5 off on any one hour sessions or $10 off on any 90 minute sessions!
Discounts apply to any 60 or 90 minute session on those two days only.
Offer good until all appointment slots are full.
---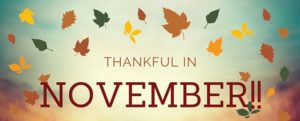 The Appreciation Massage
Show yourself some appreciation with either a 60 or 90 minute Swedish Massage.
Choose one amenity for your 60 minute session or two amenities for your 90 minute session:  hot stones, foot scrub, aromatherapy or back scrub.
 60 Minutes – Just $65 (Save $20)
90 Minutes – Just $85 (Save $30)
---
Active Isolated Stretch
After several requests, we are BRINGING BACK our Stretch and Massage sessions and offering a very special rate in November!  Karen Heide, LMT has not only completed the AIS courses, but is receiving ongoing one-on-one training in the AIS clinic in Sarasota. The Stretch and Massage sessions add time for Swedish or Deep Tissue Massage.
 Active Isolated Stretch |30 Minutes – Just $29 (Save $16)
Stretch and Massage | 60 Minutes – Just $59 (Save $26)
Stretch and Massage | 90 Minutes – Just $89 (Save $26)
---
LuminEssence Facelifting Massage
This brand new session combines massage, lymphatic drainage & acupressure with botanicals suited for sensitive skin. The restorative treatment assists in collagen and elastin regeneration and also includes massage of head, hands and feet.  Sessions are scheduled with Sally Ramsey, LMT, a Facelift Massage Specialist.
Save $10 on either session in November!
60 Minutes – $75
90 Minutes (includes 30 min relaxing Swedish Massage) – $110
---